Step inside our studio and you'll find a small team with great passion for creating original design solutions. Each assignment receives careful assessment and custom creation. Every client has a place at our conference table to sort and sift and strategize. Twenty years in, we know the power of this partnership and process.
[unex_ce_button id="content_9rmo9b558" button_text_color="#000000" button_font="semibold" button_font_size="20px" button_width="auto" button_alignment="center" button_text_spacing="0px" button_bg_color="#ffffff" button_padding="20px 60px 20px 60px" button_border_width="1px" button_border_color="#000000" button_border_radius="0px" button_text_hover_color="#ffffff" button_text_spacing_hover="2px" button_bg_hover_color="#699bc5" button_border_hover_color="#699bc5" button_link="http://www.enzeddesign.com/skills/#clients" button_link_type="url" button_link_target="_self" has_container="1" in_column=""]View Our Client List[/ce_button]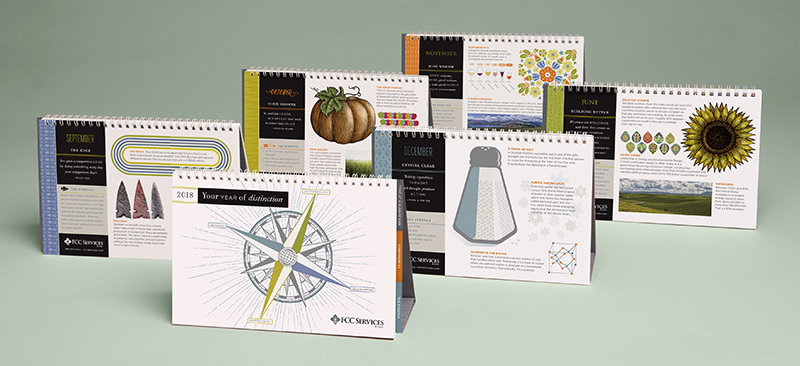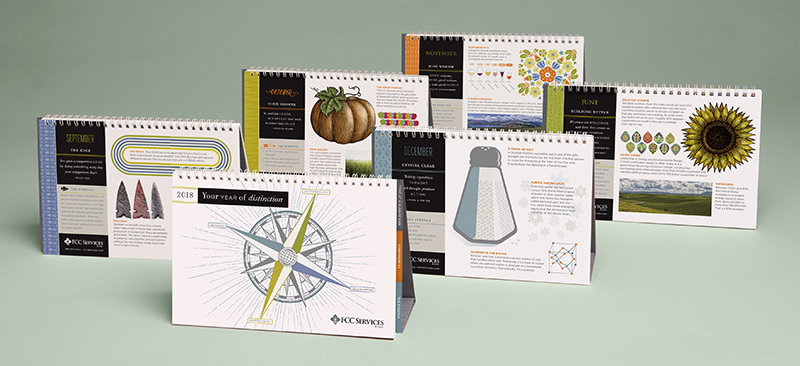 A Distinctive Start to 2018
For the third year running, we've had the honor of designing a custom desk calendar for FCC Services. Each calendar combines inspiring imagery with practical pieces – conference and program schedules – to create a valuable addition to their clients' desks. The goal is to provide a beautiful, useful tool and keep the FCCS brand visible the full year...
[unex_ce_button id="content_nkg91nplr,column_content_24uuywxbq" button_text_color="#000000" button_font="semibold" button_font_size="20px" button_width="auto" button_alignment="center" button_text_spacing="0px" button_bg_color="" button_padding="20px 60px 20px 60px" button_border_width="1px" button_border_color="#000000" button_border_radius="0px" button_text_hover_color="#ffffff" button_text_spacing_hover="2px" button_bg_hover_color="#699bc5" button_border_hover_color="#699bc5" button_link="http://www.enzeddesign.com/newz/" button_link_type="url" button_link_target="_self" has_container="" in_column="1"]More from Our Blog[/ce_button]