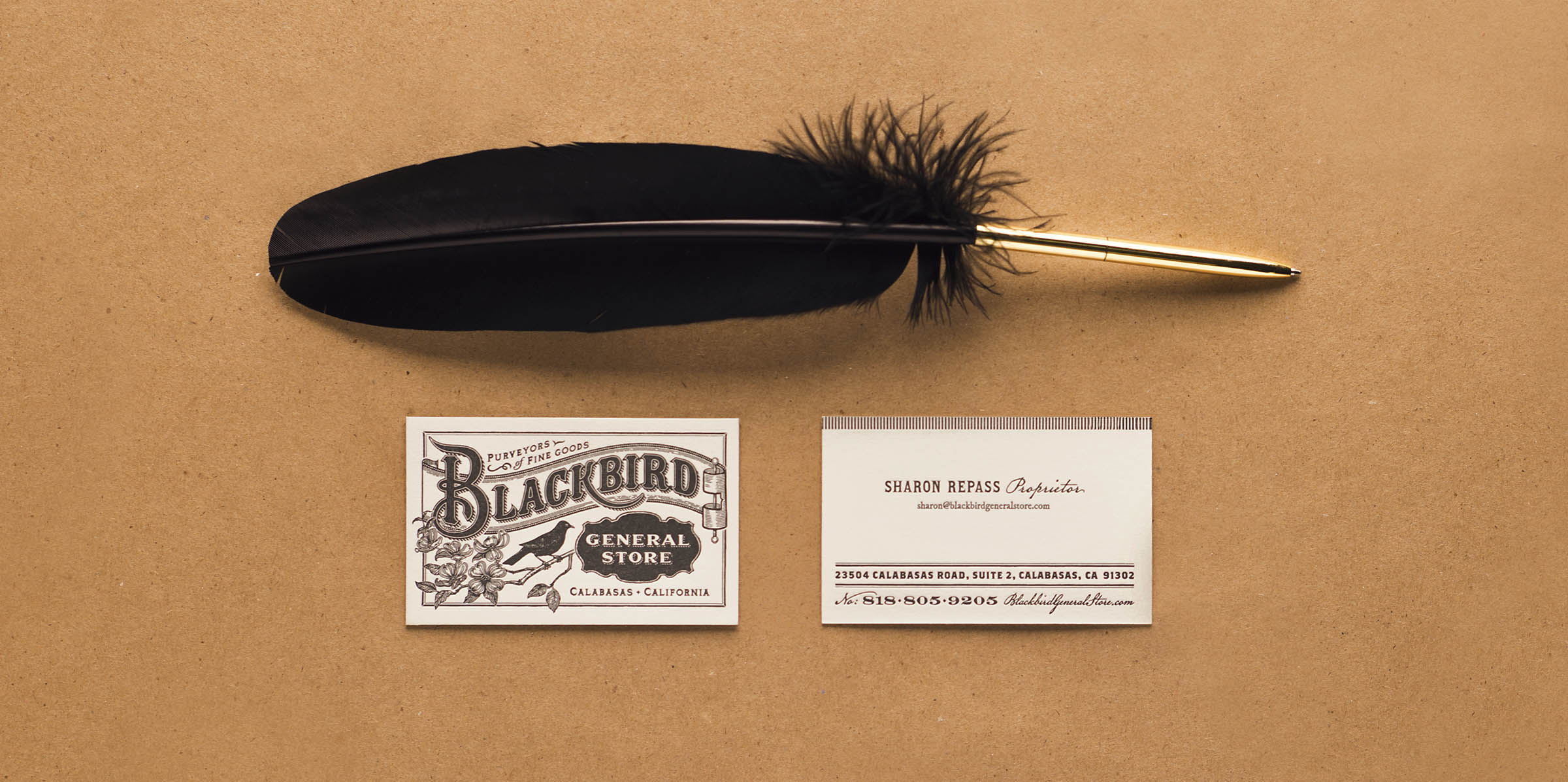 Blackbird General Store
We were fortunate to meet Sharon Repass, a creative mind looking to realize her dream of owning a retail store. She'd just found the perfect spot for Blackbird General Store in Calabasas, California, when she found us. We created the logo, packaging, gift boxes, and signage.
The identity is based on an illustrated logo that mixes rustic General Store practicality with authentic over-the-top Victorian dimensional lettering and etchings. Texture, dimension and hand lettering capture the spirit of the store and reflect the style of the fine goods and old-fashioned service inside.
The logo debuted on custom hang tags, printed letterpress on a luxurious creamy white paper, set off against rustic kraft shopping bags. It was then laser engraved on raw pine boxes, their signature, customizable gift box offering. We also created custom patterned tissue inspired by toile fabric to wrap fragile items and seal them with Blackbird stickers. The city-approved exterior signage was carved into redwood and finished with a simple weathered color palette by local artisan sign maker, Leo Bronstein. Each element of the brand blends the Victorian era sensibilities and modern qualities that capture the essence of Blackbird General Store.
During the design process, we helped Sharon feed her fledgling store brand and give it wings. Our previous experience with retail branding combined with her vision for the interior design and signature products informed our decisions about how the brand should look and feel. This team approach with frequent calls and exchanges enabled EnZed to hit the mark. Sharon was over the moon about the design and we're grateful for her collaborative spirit.
Find Blackbird General Store on Facebook and Instagram.
The project caught the eye of Sabine Lenz, Paper Queen and Founder of PaperSpecs.com. We were all aflutter when she chose to feature it in her Inspiration column.