K&M Free Range Eggs
New Zealand egg farmers, Nature's Corner, found themselves in a great position to purchase the neighboring farm and expand their Free Range offerings. K&M enjoyed a global following for it's superior quality product, due to their focus on animal welfare and pastured poultry. Unlike their commercial counterparts, K&M's flocks happily roam outside all day, are fed an organic, vegetarian diet, and lay nutritionally-rich eggs. While K&M stood out in the industry, their packaging—a utilitarian orange label—did not.
We set forth to express their top knotch status and designed the K&M Free Range Eggs logotype, custom illustration, and minimal packaging to tell their story. Because their eggs are primarily sold at local farmers markets, the belly band wrap could be assembled by a small operation. Each panel educates the buyer about the eggs, such as why pasture raised eggs earn 5 stars, while cage free come in at only for quality of lifestyle for the hen.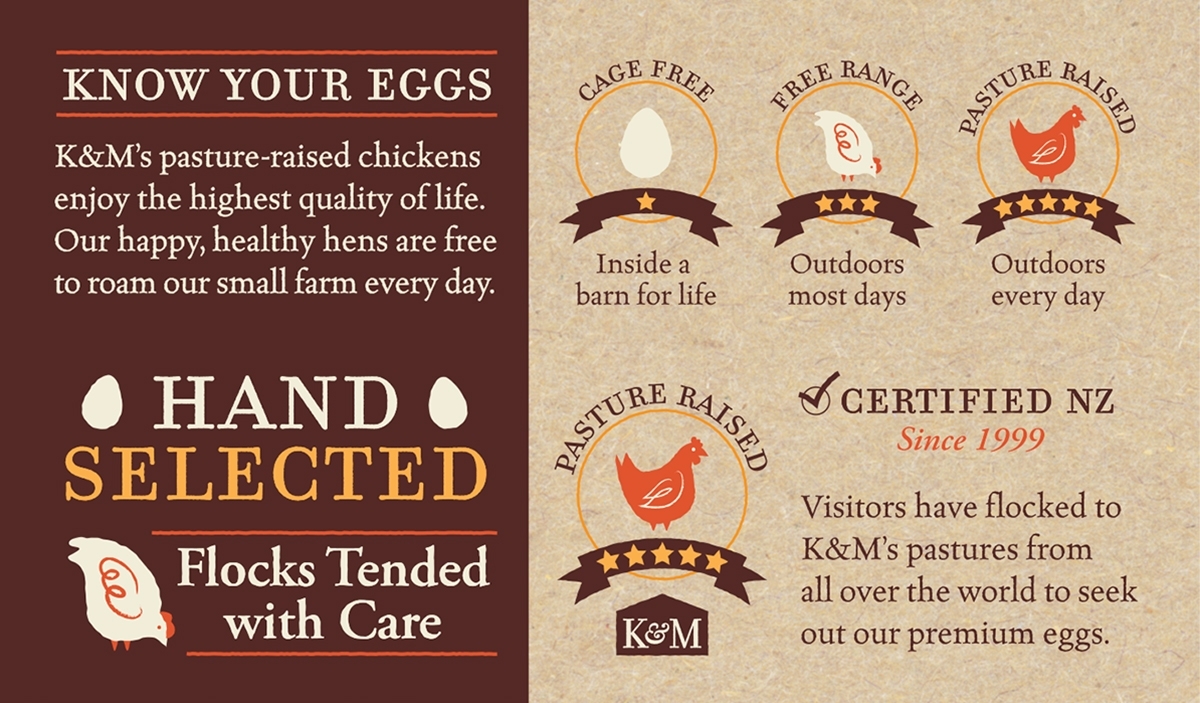 The packaging was designed for these consumer profiles: Foodies who want the best, savoring the egg at breakfast or as a top baking ingredient; tourists from Asia who purchase K&M eggs as a special gift; working professionals from Auckland who want the best nutrition and purest product.
We learned a lot about eggs during the process. Turns out the "chook makes the egg and the egg makes the dish." These eco-conscious small farmers, who hand raise their chicks, can categorize their eggs by cuisine. They know which hen lays the perfect poachers, superior scramblers, or the jumbo double-yolkers. We tested their eggs with our pavlova making skills. Wowza! I've never seen such a fluffy pav in my decades of sampling.